CANSKATE – Learn-to-Skate
This is a beginner level program for boys & girls starting at age 3 years.  Skaters strive to achieve the Skate Canada badge levels 1 to 6.  This 45-minute program combines a 10-minute warm-up, two 15-minute group lessons with a professional coach and help from our PA's (program assistants) and a 5-minute cool down. The CanSkate coaches evaluate their skaters on a day-to-day basis, and provide a report card in December and March outlining their progress.
Important Note for CanSkate programs
• CSA-approved hockey helmets and single blade skates are mandatory for skaters up to and including level 5
• A parent /guardian MUST be present for the duration of all lessons.
• Waterproof mittens, pants and jackets are recommended (no scarves).
CANSKATE – Intro to Figure Skating
A program designed for skaters who are interested in pursuing figure skating. Group lessons are included and focus on various skating elements, eg. spins, jumps, edges and turns. Badges are awarded as stages are completed.
Skaters are often interested in private or semi-private lessons with a coach of choice. Private lessons will help skaters progress to the next level of skating. Lessons are usually 15 minutes long and occur during the skater's regular session. Parents are billed directly by the coach for these private lessons. If you are interested in private lessons please contact the coaches directly.
SPECIAL OLYMPICS
The King City Skating Club offers a Special Olympics Program.  We encourage our Special Needs skaters to be a part of the Special Olympics Program. Some of our skaters have competed at a Regional, Provincial and National level and have been quite successful.  We have a large group of coaches who are very dedicated to making sure that all of our skaters enjoy their skating experience.  We have several coaches on staff who are trained Competitive Special Olympics Coaches.  Our head Special Olympics coach has coached at a Regional, Provincial and National Level for Special Olympics Canada.
STARSKATE Programs (Junior, Intermediate, Senior)
STARSkate = Skills, Tests, Achievement, Recognition – STARSkate offers opportunities for skaters of all ages to develop fundamental figure skating skills in the areas of ice dance, skating skills, freeskate and artistic skating.
Our fully-sanctioned STARSkate figure skating program provides a seamless move from Level 6 CanSkate into the upper levels of figure skating. Once CanSkate Level 6 is completed, skaters can move up to the Junior level which is the entry level in the STARSkate program. We offer a progression through three levels where participants will work closely with private coaches as well as in small groups to hone their skills, stroking and dances.
Coaching: All STARSkate skaters require a coach. Please visit our Coaches page to see a list of our Club Coaches. Coaches are independent contractors, arrangements for coaching should be made directly with your coach. Coaching fees are separate from your registration fees and are typically billed monthly by the coaches.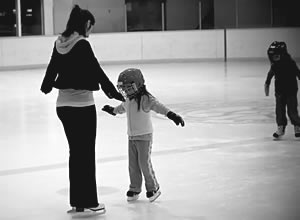 Next Steps…
Visit our registration page for more information: